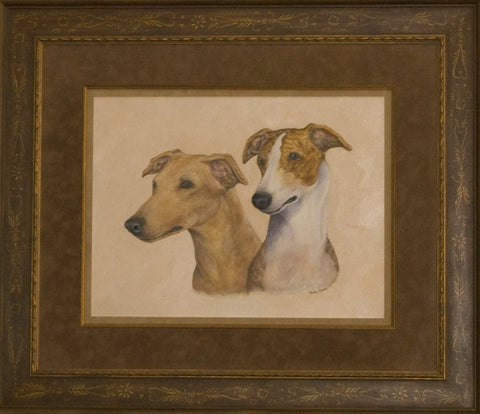 Portrait of Greyhound Pets, Inc. - Logo Print
Portrait of Greyhound Pets, Inc. logo
GPI's black ink sketch logo brought to life by Terry Albert, the original sketch artist.
Terry Albert's artistic talents have supported animal rescue and care for many years.  Her original life-like portrait of the GPI logo now hangs on display in the lobby of GPI's retired racer kennel facility, Hern Greyt Works, in Woodinville, WA.
Terry drew the original black ink sketch for GPI in 1993 and donated it in a series of four ink sketches to be used in a GPI brochure.  GPI's founder, John Hern, was taken by the two-dog sketch and selected it to be used as the logo for GPI.
Original portrait size 16" X 22" numbered and signed artist's prints are available by order in a limited edition of only 201 prints.  For an introductory period, these original size prints are available in number order for the introductory price of $100.00 each.  The print comes protected in clear wrap on firm board ready for mat and frame selection with a certificate of authenticity and artist's biography.  The production process, inks and finish are all archive museum art quality.  After the limited edition is sold, the print production files will be erased and no further artist numbered and signed prints will be available.  The limited number will make these artist's prints collectible.
An 11" X 14" size print version of the portrait is also available in a signed and numbered edition of only 501 prints.  These are also produced with archive quality methods and materials.  They come clear wrapped on firm board with a certificate of authenticity and artist biography for $50.00 each, ready for matting and framing.
Photo frame size 8" X 10" prints are available as an unsigned and unnumbered unlimited release for $30.00 each.  The same archive production processes are used on this shelf frame size artist's print.
Any size of this portrait is a perfect gift for the ex-racer Greyhound admirer, enthusiast, volunteer, or adopter, not to mention its clean, crisp, classic and relevant artistic appeal for display as a décor art piece.
(Frame/mat shown in picture is not included.)
16" X 22"  Pre-order only. - Not available for shipping. - Pick up at kennel only.
11" X 14"  Pre-order only. - Not available for shipping. - Pick up at kennel only.
8" X 10"  Pre-order only. - Available for shipping or pick up at kennel.
GPI has a small quantity of the prints in stock.  If not in stock, the prints will take two to four weeks until they are available for pick-up or shipping (8" X 10" only).
---
We Also Recommend